5 Minutes From Now You Could Be Growing Your Store Revenue Through Email + SMS
Recover abandoned carts, retain customers and much more with Recapture:

🤓 The minimal-learning-curve,
✌️ No-agency-required,
📈 Immediate-revenue-increasing
Easy-to-manage email marketing solution for stores making up to $250,000/month.
Supports Shopify, WooCommerce, BigCommerce and more.
Famous 5-minute install. Amazing customer service.
These stores grew their revenue and recovered more carts with Recapture
Recapture supports your favorite platforms out of the box




And integrates with your favorite apps!



Setup and Send Essential Store Emails, Hassle-free
Pre-created Content
Get started quickly with templates that have best practices already baked in for all triggered email campaigns.
Intuitive Email Editor
Spend time designing your emails, not learning our tool. Easy-to-use drag-and-drop editor to make email creation go quickly.
Readable Reports
Straightforward analytics reports emailed to you daily, weekly or monthly. Plus you can login and see performance anytime.
Proven ROI
We've recovered over $225,000,000 for merchants of all sizes. Average store increases their revenue by 10%.
Always Improving
We keep it simple, but we're always looking to make things better, easier and faster for you and your store.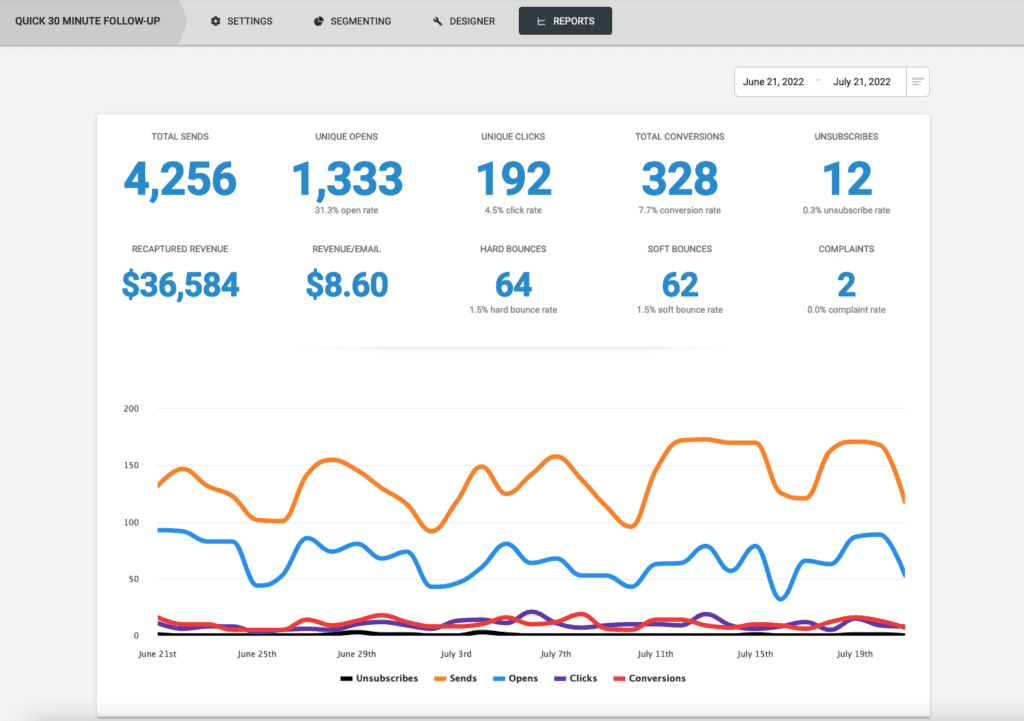 Easy to Read ROI
Clearly see how Recapture is improving your store's revenue with easy-to-read reports and crystal-clear graphs. You don't need an MBA or an hour to see what Recapture is doing for your store.
Fast and Easy Setup
We aren't joking about the 5-minute install, but that's not all that's fast & easy. Our email editor is easy to get started with, and we give you default email campaign content (with best practices!) to get you going quickly. No complex workflows to map, visualize and understand here. Our UI is very quick to learn and intuitive.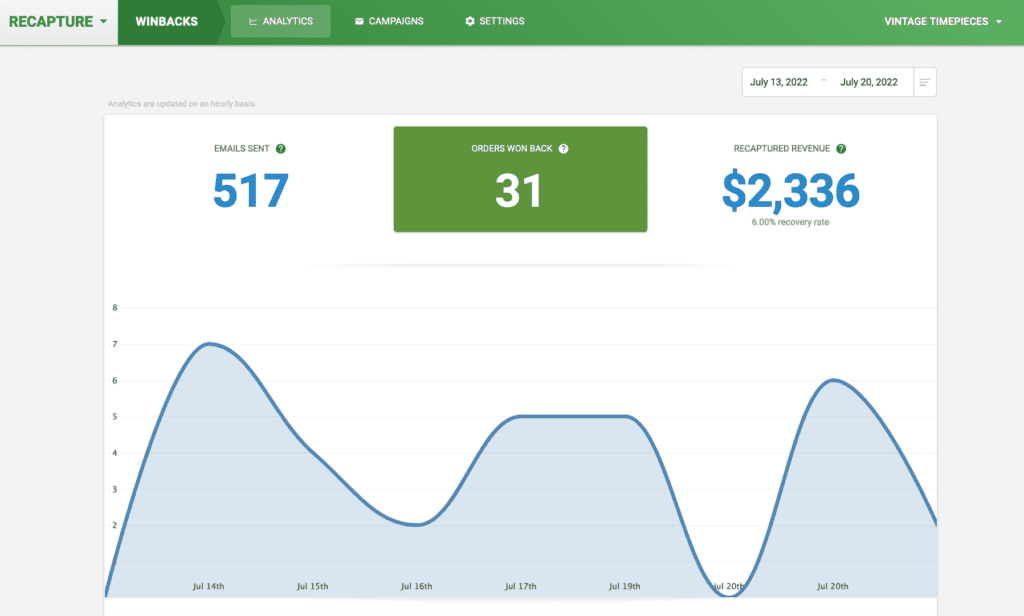 Cart Recovery is just the Start
We know abandoned carts like the back of our hand, but we're much more than just that. We support popups to increase email capture, post purchase campaigns to boost ROI and nurture new customers, and winbacks to help boost your customer lifetime value. Plus broadcast emails and SMS too.
Fair, Value-based Pricing
We're annoyed when people charge us for things we don't use, or just because we have more contacts, and decided that wasn't a fair way to price our services. We make sure that we earn your business every month and are one of the most valuable apps on your store.
We aim to provide at least 10-20x ROI when you use Recapture. Try our pricing calculator now to estimate your costs with Recapture:
Try a risk-free, 14 day,
no credit card required trial today